Introduce yourself! Tell us a little bit about you?
Hi, I'm Anna! I'm a fashion design graduate originally from just outside Glasgow and my work focuses on sustainable, adaptable clothing in fun colours and shapes.
What first attracted you to working in the fashion industry?
I was always very interested in clothes and picked the strangest outfits for myself when I was little. I think I was about 5 years old when I learnt what a fashion designer was and I immediately knew I wanted to be one. I did consider more practical career choices at points, but I always came back to fashion. There's really nothing else I'd want to do every day for the rest of my life and I count myself very lucky to have something I'm so passionate about.
I count myself very lucky to have 
something I'm so passionate about.
If you can, sum up your university experience in 3 words? 
Interesting, fun (when I wasn't working!) and stressful
So you recently graduated from University, as a fellow 2021 grad how was your experience completing your final year during the pandemic?
Awful. I don't want to slag off my university too much but it was just a terribly handled situation and I ended up designing and manufacturing my whole collection from my bedroom with nearly no support. It was definitely a learning curve but at least now I've seen what I can achieve on my own and I know that my friends and family will always be there to support me.
What was the most daunting part about creating a full grad collection?
My whole university career (and life) felt like it had been leading up to this collection, so I felt like I had to showcase everything I had learnt and make it absolutely perfect. I really struggled with where to even start, especially as I was trying to find inspiration during lockdown. Once I had my concept down, something seemed to click and I managed to pull it off, but I definitely put too much pressure on myself at the start.
For others wishing to get into the fashion industry would you recommend they study it?
100%. When I was younger, I seriously considered not going to university because a lot of very successful designers don't. The main reason I did end up going was for the experience, as my parents had always told me how much fun they had at uni. However, my degree changed my outlook on fashion completely and I learnt so much more that I thought I would. I thought I could sew before I went, but learning the technicalities of industrial manufacture gave me a lot more insight into my practice and the knowledge I gained about sustainability and ethics really shaped me as a designer. I went from wanting to design pretty dresses to wanting to change the whole industry, so I'd say it was worth the stress.
​​​​​​​
I went from wanting to design pretty 
dresses to wanting to change the whole 
industry, so I'd say it was worth the stress.​​​​​​​
We chatted a little about how sustainability is important to you. Is it difficult as a smaller designer to create sustainable designs as it is a more time consuming and often more expensive process?
I think it's easier for small designers to know exactly which materials and processes they're using and keep track of the whole supply chain, but it can be tricky knowing the origins of some fabrics and fibres when the manufacturers themselves aren't even sure. For bigger, more established brands, making changes is a lot more hassle, and it's easier to just pass the blame onto other departments or choose to ignore the negative impact of the brand as employees might not feel as invested. For me, it's not even a choice, I will always design sustainably. I don't tend to compare my work and processes to fast fashion because they are so separate. I do spend a lot of time and money researching everything I do to make sure it's as sustainable and ethical as possible, but it's just part of the process!
People often steer away from shopping sustainable fashion due to the more expensive price tags, are there any accessible brands you would recommend?
To be honest, I'm still looking for that myself. If clothes are made and designed ethically, they are going to be expensive and should be treated as investments. As someone who can't afford any investments right now, I stick to charity shops, ebay or make my own clothes. However, I will never judge anyone who has to occasionally resort to fast fashion if they don't have the time or money to shop sustainably. 
Th

ere's a lot of guilt associated with 
sustainability but as long as we're trying  
to make the best choices for us, there's
not much more we can do.
Your work was selected by the Graduate Fashion Week and showcased in London. What was this experience like for you?
It was a bit of a relief to be honest! I'm too close to my own work to be able to tell if it's successful, but being featured in GFW and then winning the W1 curates competition felt like the seal of approval on my collection. I went down to London to see the W1 Curates space and it was so surreal to see my work on the huge screens on Oxford Street. 5-year-old me would have been very happy!
Also, you were selected to take part in the Tiktok X Graduate Fashion Foundation merchandise competition, where you got to produce your winning design (Congratulations btw). What was your favourite part of this opportunity?
I found out I'd won the Tiktok comp the same week as I got my degree classification (I got a First!) and the W1 Curates announcement, so it was pretty overwhelming! It was the most amazing week in every way, but meeting all of the other fashion graduates was the best part. I made loads of new friends and also got to know the Graduate Fashion Foundation team, who work incredibly hard to give us these amazing opportunities. Having been stuck at home for so long, being in a room full of other creatives was refreshing.
Since having this experience, have you noticed any differences in your creative processes?
Being able to sew in a real workshop for the first time since Christmas reminded me of how much fun it can be. I had spare time to experiment with the scrap fabrics, design whatever I wanted and work with stretch fabrics for the first time since first year. When I came home, I felt recharged and inspired to design for fun again. I even felt compelled to finally restore the 1960s overlocker I've had sitting in my room for a year so that I could sew stretch fabrics at home. The experience was definitely the boost I needed to get more creative.
What inspires your designs? E.g culture, people, art.
I know it's cliché, but I'm inspired by everything. I'm always having to pull out a notebook and sketch down ideas which can be triggered by anything from pinterest posts to buildings. The coolest clothes are the ones that aren't inspired by other clothes, so my interests in art, literature, nature, etc. are very useful.
The coolest clothes are the ones that 
aren't inspired by other clothes
What is your favourite collection/piece you've designed so far?
Probably my Graduate collection, Costume à la Victime. It's a bit mad but it brings together a lot of my ideas and inspiration, so it's an extension of me. The project I'm working on just now is also very fun, so I'm excited to release it in the next couple of months.
​​​​​​​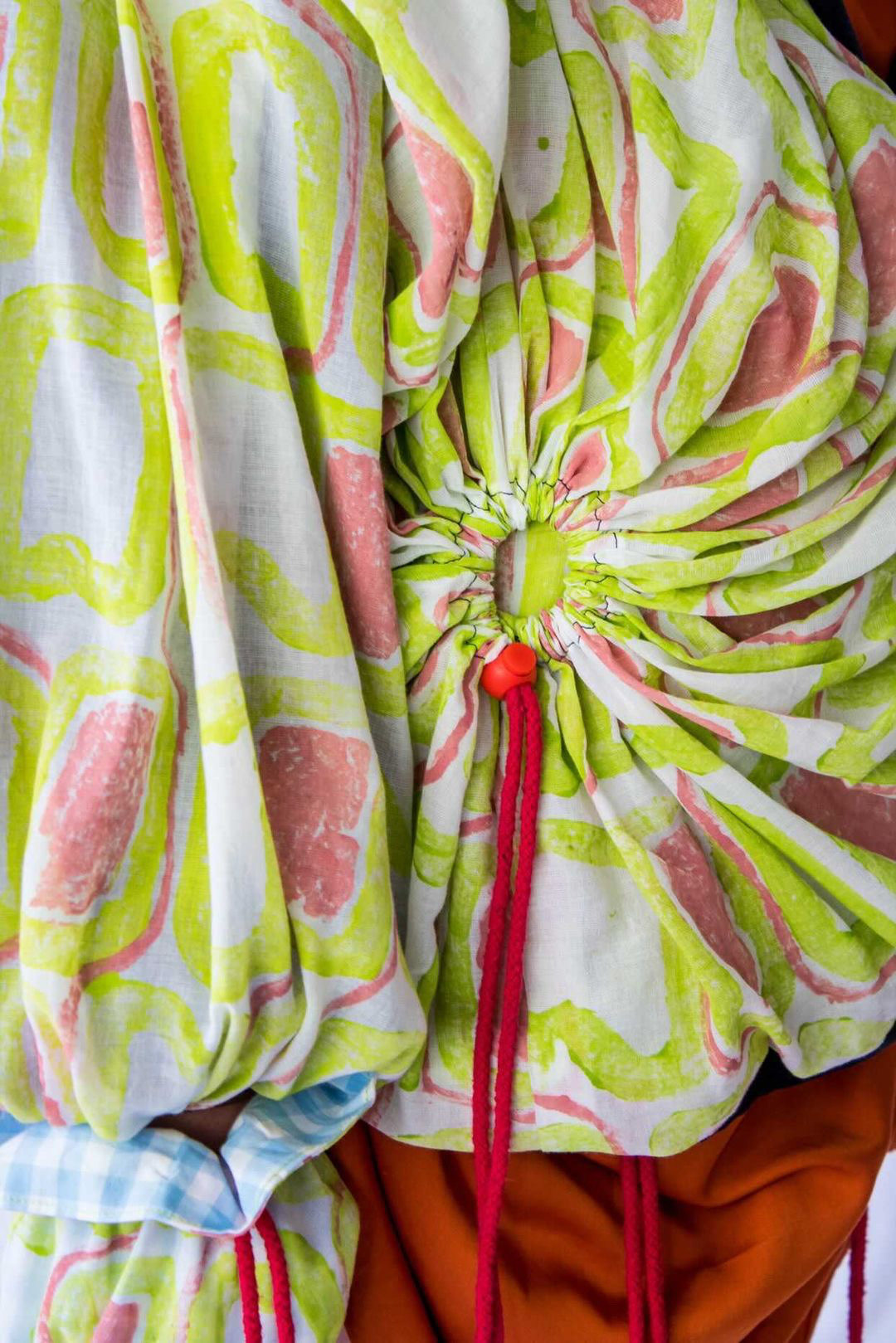 In fashion a lot of smaller designers struggle with imposter syndrome, is there any advice you could give them?
What's helped me is meeting and working for other designers. I've interned for four companies so far and every single designer I've met is kind, down to earth and just a normal person. Sometimes we see fashion designers as these super cool perfect beings, but understanding that everyone is human takes the pressure off.
Sometimes we see fashion designers as
these super cool perfect beings, but
 understanding that everyone is human 
takes the pressure off.
What is your next upcoming project for Anna Watson Fashion? Unless it's a secret of course!
I am just starting a new job with a small sustainable fashion brand which is amazing! I am also working on a new collection for myself in my spare time which is keeping me busy.
​​​​​​​
Who would be your dream designer to collaborate with?
Without a doubt it would be Bethany Williams. I really look up to her as a designer and the positive change she makes in the industry is unparalleled. I got the chance to have a one on one mentoring session with her recently and she's so lovely and down to earth as well, so it would be a dream to work with her!
If you could pick anyone, who would you love to model your next collection?
I'd love to have Jazzelle (aka uglyworldwide) model my clothes. She's so cool and I think she'd look great in them!
You're having a dinner party! Which 3 people are you inviting? (they can be dead or alive)
Rei Kawakubo (founder of Comme des Garçons and Dover Street Market), Taylor Swift (my not-so-secret guilty pleasure) and Bimini Bon Boulash (the public's winner of Drag Race UK season 2). It's a weird mix, but I'm sure we'd have fun.
Huge thank you to Anna for featuring on Point of You!
You can catch up with what Anna gets up too over on her: