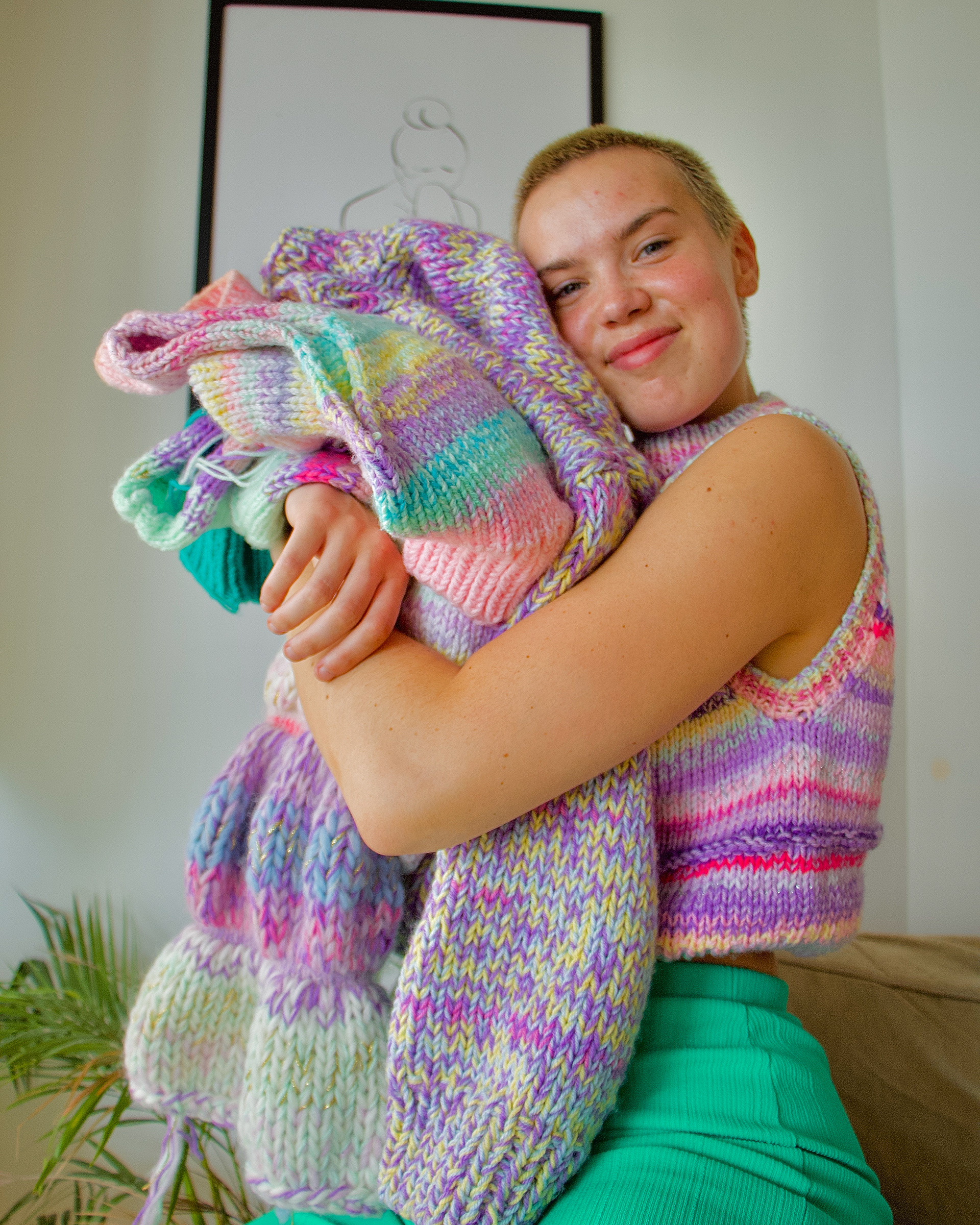 Introduce yourself, tell us a little bit about yourself?
Hi! My name is Eliza and I'm a 20 year old with a passion for fashion and design. Clothing has really been a way of expressing myself and finding out who I am. What I love with fashion is that there are endless possibilities of styles, outfits and colour combinations. You get to be unique! I see fashion as a piece of art: your body is the canvas and your clothes are the paint.
Can you sum up your brand? What's one thing our readers should know?
Elizations is a slow fashion brand creating unique hand-knitted clothing with lots of colours. Every piece is handmade with love and takes around 15-30 hours to make. An important thing to know about the brand is that all of our garments are 1 of 1 pieces, so you'll never see someone wearing the same clothes as you!
What inspired you to start Elizations?
My grandmother taught me how to knit when I was a kid, but I really started last year. I found a knitting account on Instagram called @theknitedit and I fell in love with their work. It inspired me to knit my very first sweater and I struggled a lot, but I kept going and eventually I finished my very first garment. After that I really wanted to make my own clothes because I always had something in mind but couldn't find the perfect piece of clothing from other brands. So I decided to make it myself instead. So basically it started like that, and since then I haven't stopped.
It inspired me to knit my very first sweater and 
I struggled a lot, but I kept going and eventually 
I finished my very first garment
So we chatted a bit about how your brand is 'Slow fashion'
. What about slow fashion is most important to you?
The most important thing about slow fashion to me is that everything is produced in good conditions for the workers and that it is not harmful to the environment. One of my goals with Elizations is to inspire others to become more conscious consumers and adopt a vision of fashion that is more sustainable. 
What is the slow fashion scene like in Sweden? 
I feel like here in Sweden it's going in the right direction when it comes to slow fashion. More and more people buy from thrift stores or second-hand apps, or even remake their clothes. There is still a long way to go of course, but we're making progress.
​​​​​​​
As you are the only one behind your brand, what is the most difficult thing about being your own boss?
The most difficult thing about being my own boss is that I find it difficult to set boundaries between work and free time. I work really hard and sometimes it gets a little too much. I need to get better at allowing myself to take breaks. 
What are your opinions of online influencers continuing to be sponsored by fast fashion brands despite knowing the negative impact they have?
I think that influencers are the main reason why fast fashion brands stay so powerful. Fast fashion is the second most polluting industry in the world and it is not only harmful to the environment but also known for exploiting its workers. I think it is totally irresponsible of influencers to keep collaborating with companies that they know are unethical. The impact that influencers have on our generation is enormous, and that's what makes their hauls/collabs so dangerous. Promoting overconsumption in a society that already consumes far too much is not okay. 
I would also like to add that I am aware that not everyone can afford buying handmade or from sustainable brands, but everybody could try to prioritise buying from thrift stores before fast fashion brands, and not throw away a garment after wearing it twice. 
Everybody could try to prioritise buying from thrift
 stores before fast fashion brands, and not throw
 away a garment after wearing it twice. 
Recently on Instagram you shared that the major fast fashion brand SHEIN has stolen one of your designs, how did you find out about this?
I found out a few days ago that Shein stole my design thanks to one of my followers who messaged me about it. I'm far from being the only one it happens to unfortunately. 
​​​​​​​
Since finding out about this, do you think social media platforms are a good method for calling out big companies like SHEIN?
Yes, I think social media is our only way to fight big companies like Shein. They are very powerful and lawyered up so it is almost impossible to win against them in court. However we have a great source of power which is spreading information and raising awareness through social media. Using cancel culture is something very common with our generation and it is very effective. Not to mention how fast information spreads around the world. 
​​​​​​​
As an online community, what is the most important thing we can do to protect small designers like you when this happens? 
A way of supporting a small designer when this happens is to share as much as possible to your own platform. This raises awareness and increases the chances to "hurt" fast fashion brands.
Your knit designs are beautiful, what inspires you when designing them?
Colours always make me happy so that is something I try to incorporate in everything I make. I really believe that colorful things can make a person's mood much better and put a smile on peoples faces. I am also very inspired by the 70s; the ABBA era. I want my designs to be extravagant, with flared sleeves and glitter.
I really believe that colourful things can make 
a person's mood much better and put a smile 
As of right now you design mostly sweaters and knit tops, do you have any plans of expanding your designs?
I would love to make a pair of flared pants and a super long and extravagant dress. 
​​​​​​​
Where do you want Elizations to be in the next 5 years? 
I have really just started Elizations so everything is quite new, but I want to keep knitting and creating designs. In the future I hope to be able to hire a few knitters to help me. And the absolute dream would be to participate in a fashion week show, but that is more of a long long long term goal… 
What is your favourite slow fashion/sustainable brand?
I really love the danish brand "Baun Studio". All of their pieces are handmade and I love the colours they use!
Who would love to see wearing your designs?
One of my dreams would be to see the actor Indya Moore wear Elizations, because they are so talented and have really helped me in finding out who I am and to be okay with it. 
What brand would you love to collaborate with? 
I don't have a specific brand in mind but I would love to collaborate with lgbtq+ organisations and donate once my business starts to grow.
​​​​​​​