Susana is a 21 year old aspiring photographer looking to share her current project Alley of the Rising Sun. She was born in Harrogate but grew up in Southern Spain where her passion for photography first started. Since picking up a camera for the first time whilst still at school, Susana was completely self taught, went to lots of exhibitions and talks, put up her own exhibitions and always tried to connect with people in the world of photography. She is super keen in just having conversations with people about pictures!
Why did you decide to become a photographer? Do you remember a pivotal  moment ? 
I remember looking through my parents' photo albums from when they travelled around the  world, specifically some of Australia, seeing them in a totally different context years ago, on  their motorbike, in nature, I just remember thinking that looked pretty cool. In a childish way, I remember I started imagining myself in all the different countries they'd been to, it  was as if the idea of travelling was completely foreign, and it just sounded so exciting. All the  stories that came with the pictures as well. I wanted to do that. For some reason I was really  fascinated by the fact you could go somewhere different from your hometown and, on top  of that, bring that place back with you through the photographs. So I asked them to dig out  the camera they'd used to take those prints I was looking at and that was it. I decided there and then. 
Where did you study and is there anything you know now, that you wish you'd  known when you started university?  
I did my degree at the University of Sunderland, which is pretty random considering I went to school in Spain; but I found out Richard Billingham went there so that kind of sold it to me. I think my experience at university was pretty smooth. I learnt a lot of things along the way obviously, and I feel like I adapted to those changes in real time quite quickly. I guess it's always that thing of thinking that university and your lecturers are going to hand it all to you and guide you all the way through; but very quickly you realise that university actually  doesn't do anything unless you do something with it. The old adage that you "only get out  what you put in" is 100% applicable to here I think. So I guess in terms of growing as a  photographer, I wish I'd put myself out there right from the start and I wish I'd been a little less self-conscious from the start. But it always takes time to warm up. And in terms of  growing as a person, I wish I'd known that I don't have to stress about every single detail  quite so much. 
University actually doesn't do anything unless you do something with it
Congratulations on graduating this year! How is life since graduating ? What  does a day in the life of Susana look like ? 
Thank you! I got a first too which is very satisfying. Life is good, I moved down to London  pretty much the day after I handed in my last piece of work, so I'm definitely still adapting to the hectic lifestyle of the city. Every day is so different. My part-time job is online, so I normally wake up early and do my shift. I try and get out a lot so if I don't have anywhere in particular to go, I normally just go for a walk with my camera around where I live, on a quiet  day, or I might go to an exhibition or work from a coffee shop. I live with my brothers and we're working on a project together so there's always a lot of meetings around the dining table at our flat! 
What is your favourite project that you have worked on and why is it so  important to you? 
I always go back to a project I did in the second semester of my first year. It was for our studio module and the brief was open with the exception of having to use studio lights. I  don't like working in the studio so I decided to take the studio lights into my friends bedrooms and take their portraits in their "little caves". I'd never worked like that before, and not much since, it's very different. I never thought I'd ever work in constructed photography (even though I always argue those portraits are only half constructed hahaha).  I am happy with them at a technical level, and kind of surprised. I was shooting with a mamiya RB using three different flash lights. I know they say a lot about me, but I never got the chance to develop the series any further, so there are only 5 images from that series. To  this day I don't really know what they are, or what they mean, but I remember they were talked about quite a bit amongst my peers and lecturers. So probably that one.
Do you have any projects or exciting things that you are currently working on? 
👀
I am currently working on finishing the project I did for my degree show and sequencing a book of the project. It might sound weird but I've almost – unconsciously - wanted to do this project even before starting uni. When I started the application process I'd always thought about my degree show and how I wanted it to be a culmination of my work and really summarise me and my work. But because of the pandemic and other circumstances I wasn't  satisfied with where I'd got to with the project, so I decided this one was the one that I had to pursue. It's called "Alley of the Rising Sun" and it's  linked to the way I used to photograph when I first started taking pictures when I was 13. At first it was just the story of  my twenties, like a real time diary. The more I spent time with the prints I'd made during my last semester at uni, and all of the writings I had accumulated, I realised that this is just another chapter of what I've always done. So I really want to include the images I'd made growing up in Spain, of my time spent in London before going to uni, and finally those  images made during my time at uni. I think it's quite an ambitious project, but I really think this will be the first coherent project I put out there; and that introduces me to the world as a photographer I guess? I would like to get it published, or self-publish it, in 2022 so I need to crack on with the mock-up of the book hahaha! 
​​​​​​​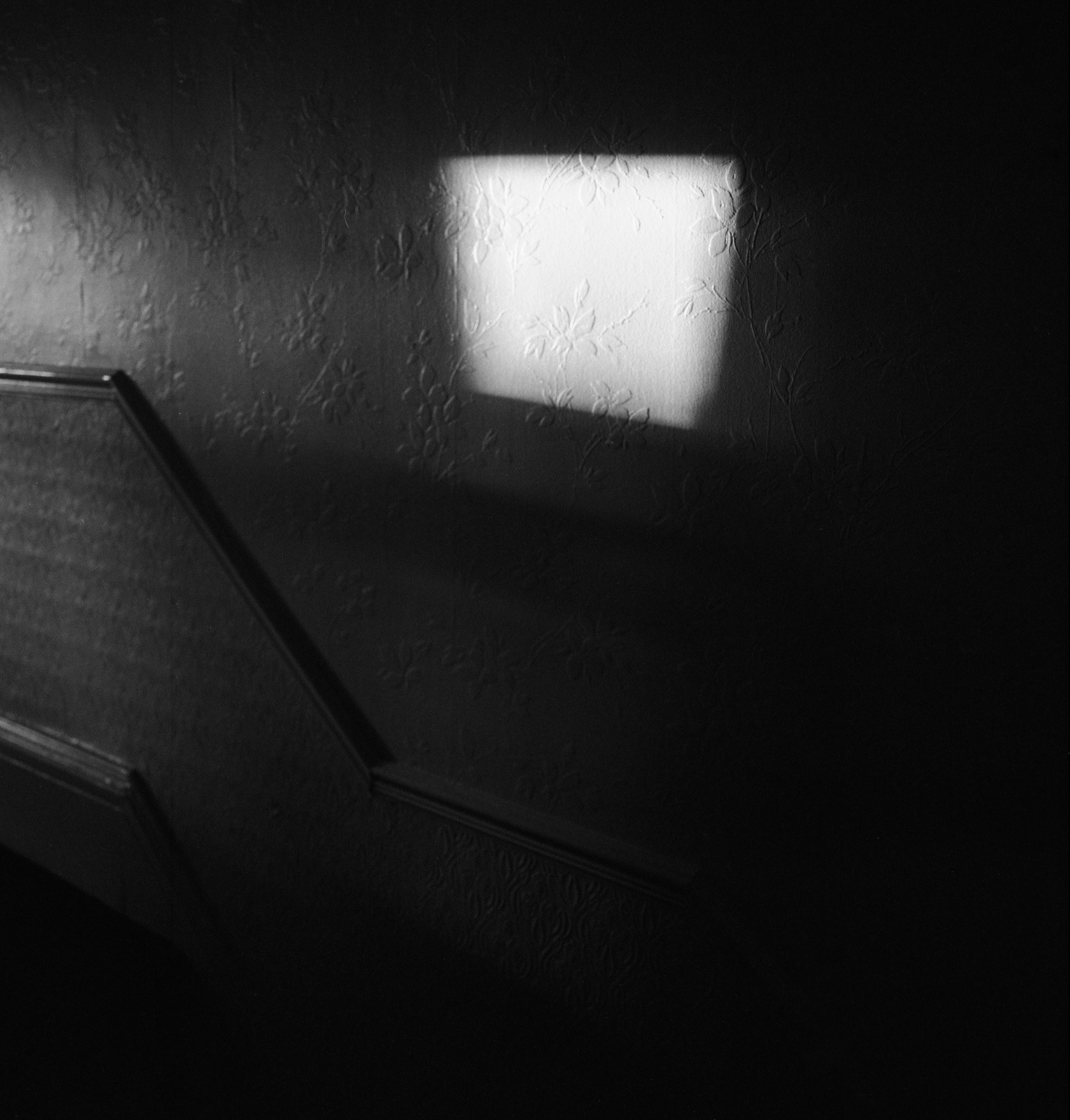 How has your visual style grown and developed throughout your education  and career so far?  
I think it's stayed pretty similar actually. I "see in black and white". I'm staying constant because like I've kind of already said, I don't think I've made anything conclusive enough with it. I might move on from black and white once I feel like I can close this chapter. I shoot colour every now and then, so maybe I would try that. But even though my aesthetic has stayed relatively similar, I would say my "way of seeing" is a lot more refined. Over the years I think  I have become a lot more sensitive to well composed images and scenes with beautiful  lighting. They are very subtle details that really set apart brilliant photography from good photography. I'm not saying I've reached brilliance in the slightest, but I have noticed these changes in my way of "seeing things" and therefore I try to apply them to my practice. 
Where do you find inspiration and how do you approach new projects?  
Mainly whatever thought process I'm having at that time is my inspiration. I analyse my life a lot and I really like having conversations about it, so the photographs normally reflect that. So when I notice I'm going through this process, I try reacting to it as quickly as possible so that the spark doesn't go away. The way this happens for me is I'd normally just spend a night working flat out for a good few hours on either putting some of the images together that sparked the idea, developing them, and writing down my thoughts. Maybe a bit like writing the title and the introduction of a novel. Those hours spent focusing on those images I consider the first page of the book. From that point on, anything I make is enveloped in that idea almost unconsciously until I consider it finished. I don't necessarily develop a plan, but I normally know what I want the final thing too look like, so I work towards that. In my own time. I let it flow as naturally as possible. 
​​​​​​​
Has the COVID-19 pandemic affected your plans and career ?  
Maybe not in the long term but it definitely threw me off massively. It didn't stimulate me in any kind of way. It happened halfway through my degree as well, just when I was kind of going through a transition of sorts, you know, nearing the end of university and thinking  about not being a student anymore and a lot of these things. It made me be in my head a bit too much. I really can't force out any creative thing, so even completing my modules at uni felt a bit tricky because I felt like I was just forcing it. 
Do you have any role models or mentors who shaped your career?  
I don't think they know this, but I have three people who I consider mentors. I was self-taught in photography when I first started but I would do photography workshops every  now and then in my hometown. I did a course in advanced photography, led by a Spanish  photographer who introduced me to people like Bresson and Doisneau and insisted a lot in making emotional photographs, images that spoke and were three dimensional. He would read my photographs in a way that no one ever had and he would say that I didn't photograph like a 15 year old. The other person I consider a mentor is another Spanish  photographer who I did a couple of workshops with, he really pushed me to express myself through my photography and really made me think how photography is a language. Also the director of my course at university, who was the one who accepted me onto the course, he  pointed out the experimental side of my work and highlighted how I don't photograph the world, but my world. All of these comments I consider very pivotal, and they definitely shaped the way I think about photography today. 
Do you have any advice for current students or females starting their career in  the creative industries? 
Only do it if you are truly in love with whatever art form you are pursuing. If it wasn't at least a very important hobby before you decided to study the subject at uni, you are going to struggle to connect with yourself and what you do. In terms of being a female in this industry, I've never had any moments where I've thought this is a disadvantage or anything. I've never even thought about my gender in that way. So I would advise other women to not think about it, unless it's extremely obvious that someone is being disrespectful about it. But I think that is a different subject.  
​​​​​​​
Only do it if you are truly in love with whatever art form you are pursuing.